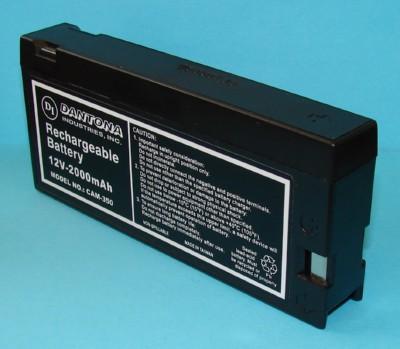 PHILCO V80096BK01 (CAM-350) Battery Replacement
Price: $38.25


Replacement for:
PHILCO
Product:
CAM-350
Battery Model:
V80096BK01
Battery Specifications and Description
Replacement for: PHILCO Battery/Item: CAM-350
Model/Product: V80096BK01 Volts: 12
mAh or Ah: 2000 Composition: LEAD ACID
Dimension: Connector:



EPP-130 EPP-130C
(2359)

When strong Camcorder Batteries are required - the V80096BK01 PHILCO replacement battery is there to do the job. Man1's process for manufacturing the V80096BK01 is high-tech making it one of the best V80096BK01s on the market today. It's also built to meet or exceed the original PHILCO specs. BatteryTex.com - your one-stop shop for replacement batteries, chargers and more. Thanks for choosing BatteryTex for your battery needs. Our battery experts are here to give you answers to any questions you may have or to provide you with information on bulk discounts: 1-888-825-6661. Looking for other Camcorder Batteries batteries? Search our stock here for more. More in-stock items for PHILCO products. Using updated materials, manufacturing techniques and modern technology today's batteries provide greater benefits from increased life-spans to decreased costs. If you want to know about the warranty on a certain battery simply contact us with the battery's part number. Use our toll-free number or contact for to reach out to us.