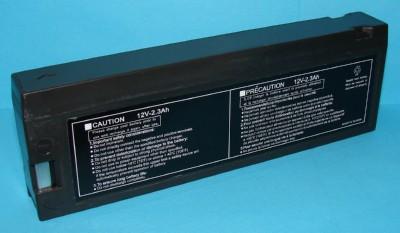 PHILCO V80039BK01 (CAM-322) Battery Replacement
Price: $34.99


Replacement for:
PHILCO
Product:
CAM-322
Battery Model:
V80039BK01
Battery Specifications and Description
Replacement for: PHILCO Battery/Item: CAM-322
Model/Product: V80039BK01 Volts: 12
mAh or Ah: 2300 Composition: LEAD ACID
Dimension: Connector:



EPP-100 EPP 100 EPP100
PHILCO, a well-known industry leading battery manufacturer, presents the V80039BK01 battery replacement. The V80039BK01 is built tough with strong, durable materials. It has also been guaranteed to equal or out-perform PHILCO's original specifications. Our huge inventory and extra low pricing make us the choice for batteries - BatteryTex.com. Great replacement batteries, great prices, every day from BatteryTex.com. BatteryTex (M-Tronics) is a family-owned battery supplier since 1977. Give us a call with any questions or for information on bulk discounts - 1-888-825-6661. Other Camcorder Batteries batteries may be available that meet your requirements - click here to browse. Man1 provides other high-quality batteries at terrific prices - click here for more information. You get more than just great pricing with BatteryTex. Take advantage of batteries with long life-spans, modern production and top-quality components. If you want to find the warranty information and timing on a particular battery please contact us.