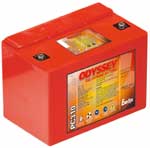 KAWASAKI ZX900-C, NINJA (ZX-9R) (PC310-P) Battery Replacement
Price: $184.31


Replacement for:
KAWASAKI
Product:
PC310-P
Battery Model:
ZX900-C, NINJA (ZX-9R)
KAWASAKI ZX900-C, NINJA (ZX-9R) (900cc, '98-'99) MOTORCYCLE BATTERY


looking for powerful motorcycle and powersport batteries? then look no further than the kawasaki zx900-c, ninja (zx-9r) replacement battery. the zx900-c, ninja (zx-9r) is constructed with performance and quality in mind. also it has been developed to meet or out-perform kawasaki's original specifications. great replacement batteries, great prices, every day from batterytex.com. save time, money and hassle and get your batteries at unbeatable prices at batterytex.com. want more information or bulk discounts? call us now at 1-888-825-6661. looking for other motorcycle and powersport batteries batteries? search our stock here for more. browse other terrific products by manufacturer: kawasaki enhanced efficiency, power and longevity make today's batteries better and more cost-effective for consumers. most all of our batteries have a one year warranty unless otherwise specified. please feel free to contact us for actual battery warranty information.