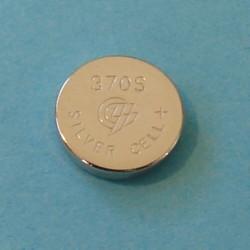 370 - SUZUKI SP370 1.55v 30 mAh SILVER OXIDE Replacement Battery by BatteryTex
Price: $1.49


Replacement for:
SUZUKI
Product:
370
Battery Model:
SP370
Battery Specifications and Description
Replacement for: SUZUKI Battery/Item: 370
Model/Product: SP370 Volts: 1.55
mAh or Ah: 30 Composition: SILVER OXIDE
Dimension: 9.5MM X 2.1MM Connector: PRESSURE




All Watch - Photo Batteries are not created equal. The PANASONIC SP370 replacement battery is the right choice for those seeking performance and efficiency. It's made from quality materials so the SP370 is one of the toughest on the market. Plus it was designed to equal or improve upon the original specs by PANASONIC. BatteryTex.com - known for our wide selection of the top batteries at some of the lowest prices online. Whether its selection, quality or our great discount prices you'll find that BatteryTex is the ultimate battery source. Call us now at 1-888-825-6661 for more detailed information on this product and for special deals and discounts. If you need another Watch - Photo Batteries battery click here to view our selection. View more from this manufacturer: PANASONIC We carry only batteries that are well-manufactured, long-lasting, and made from quality parts. Warranties for batteries and other products on this site are dependent upon the product and the manufacturer. Please contact us with the specific model for warranty information.