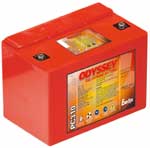 HUSABERG All Electric Start Models (PC310-P) Battery Replacement
Price: $184.31


Replacement for:
HUSABERG
Product:
PC310-P
Battery Model:
All Electric Start Models
HUSABERG All Electric Start Models (cc, '84-'87) MOTORCYCLE BATTERY


the all electric start models replacement battery by husaberg is designed to provide lasting power and reliability. the all electric start models is built tough with strong, durable materials. equaling or exceeding the original manufacturer's specifications for your equipment at an affordable price is a hallmark of husaberg. search our huge database of replacement batteries, chargers and accessories and save on both price and shipping. batterytex - your source for amazing prices on the best batteries on the market. we also offer bulk discounts and top-flight customer service so drop us a line at 1-888-825-6661. search for other motorcycle and powersport batteries batteries at low prices by clicking here. view more from this manufacturer: husaberg with better materials and manufacturing processes batteries have become smaller, more efficient and more affordable. need battery warranty information? call us today with the battery part number you're needing.