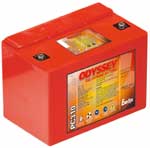 KAWASAKI ZX600-K NINJA ZX-6RR (PC310-P) Battery Replacement
Price: $184.31


Replacement for:
KAWASAKI
Product:
PC310-P
Battery Model:
ZX600-K NINJA ZX-6RR
KAWASAKI ZX600-K NINJA ZX-6RR (600cc, '03) MOTORCYCLE BATTERY


when it comes to power and energy the zx600-k ninja zx-6rr kawasaki replacement is the king of motorcycle and powersport batteries. the zx600-k ninja zx-6rr is built tough using only the highest-quality materials. due to such quality construction the zx600-k ninja zx-6rr is built to match or better the original specs laid out by the manufacturer of the original prod1. batterytex - your source for amazing prices on the best batteries on the market. our huge inventory and extra low pricing make us the choice for batteries - batterytex.com. have questions on this product or want to buy bulk? call our techs now at 1-888-825-6661. batterytex carries more of these great motorcycle and powersport batteries batteries. view them here now! view more from this manufacturer: kawasaki batteries are judged on how strong they are, how long they last and how well they're built. our batteries meet all of these qualifications and with amazing prices as well! need battery warranty information? call us today with the battery part number you're needing.