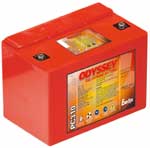 KAWASAKI ZX600-G, J NINJA ZX-6R (PC310-P) Battery Replacement
Price: $184.31


Replacement for:
KAWASAKI
Product:
PC310-P
Battery Model:
ZX600-G, J NINJA ZX-6R
KAWASAKI ZX600-G, J NINJA ZX-6R (600cc, '98-'02) MOTORCYCLE BATTERY


all motorcycle and powersport batteries are not created equal. the kawasaki zx600-g, j ninja zx-6r replacement battery is the right choice for those seeking performance and efficiency. only quality materials are used in every zx600-g, j ninja zx-6r produced. from this we have a replacement battery that equals or out-performs the original requirements set forth for your equipment. whether its selection, quality or our great discount prices you'll find that batterytex is the ultimate battery source. only the best batteries at the best prices: batterytex.com. call our battery technicians for more detailed information and for bulk discounts: 1-888-825-6661 save on other motorcycle and powersport batteries batteries - search our wide inventory here. search and find other batteries from kawasaki at batterytex.com using updated materials, manufacturing techniques and modern technology today's batteries provide greater benefits from increased life-spans to decreased costs. need battery warranty information? call us today with the battery part number you're needing.