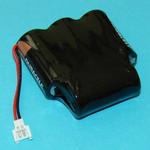 ARIANNE MYOTRON MYOTRON STUN GUN (CUSTOM-183) Replacement
Price: $30.69


Brand:
ARIANNE MYOTRON
Product:
MYOTRON STUN GUN
Battery Model:
CUSTOM-183
Arianne Myotron Battery Replacement
Custom designed battery for usage in the Arianne International Myotron Stun Gun (Pulse Wave).
Long-life and reliable operation make the Custom-183 the best choice for your Myotron. The Custom-183 is a 12v/1200 mAh lithium battery.
Total Price for the Myotron Stun Gun battery including Shipping anywhere in the USA: $37.29*
*Shipped via Priority Mail, cost is $6.60. If you add other items to your cart, it may increase your shipping price. Does not include TX state residents' tax. Please see the shopping cart for your final price
Misc Batteries are not all the same so when you choose the MYOTRON STUN GUN (replacement for ARIANNE MYOTRON) you choose durability and strength. You can't beat the MYOTRON STUN GUN for it's high-quality construction; built with the best in materials. Plus ARIANNE MYOTRON's specs have been equaled or surpassed in its construction. Save time, money and hassle and get your batteries at unbeatable prices at BatteryTex.com. BatteryTex - your source for amazing prices on the best batteries on the market. Call our battery technicians for more detailed information and for bulk discounts: 1-800-292-7328 We stock a great selection of items for ARIANNE MYOTRON products. Click to see.