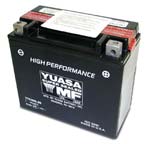 YAMAHA YFM400N BIG BEAR 2WD (YTX20HL-BS) Battery Replacement
Price: $138.95


Brand:
YAMAHA
Product:
YTX20HL-BS
Battery Model:
YFM400N BIG BEAR 2WD
YAMAHA YFM400N BIG BEAR 2WD (400cc, 00-03) ATV BATTERY
MOSM32RBS, with acid
NULL
yamaha, a well-known industry leading battery manufacturer, presents the yfm400n big bear 2wd battery replacement. the yfm400n big bear 2wd is made from the ground-up with first-rate materials. it's also guaranteed to meet or exceed the original yamaha specifications. batterytex - your source for amazing prices on the best batteries on the market. search our huge database of replacement batteries, chargers and accessories and save on both price and shipping. want more information or bulk discounts? call us now at 1-888-825-6661. batterytex carries more of these great motorcycle and powersport batteries batteries. view them here now! we stock a great selection of items for yamaha products. click here to see. today's batteries go above and beyond featuring greater technology, manufacturing and materials while decreasing their cost. each warranty can vary however normal manufacturer warranties are one year. let us know if you have questions on any specific item's warranty.