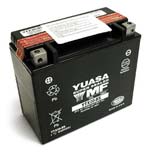 YAMAHA YFM400FWN BIG BEAR 4WD (YTX20-BS) Battery Replacement
Price: $129.95


Brand:
YAMAHA
Product:
YTX20-BS
Battery Model:
YFM400FWN BIG BEAR 4WD
YAMAHA YFM400FWN BIG BEAR 4WD (400cc, 00-03) ATV BATTERY
MOSM32RBS, with acid
NULL
when you need motorcycle and powersport batteries that can put out the power you require then the yfm400fwn big bear 4wd yamaha replacement battery is the ideal choice. manufactured using state-of-the-art equipment and the best materials, the yfm400fwn big bear 4wd is the best choice at the best price. on top of that this battery is developed to match or beat the requirements set forth by the manufacturer. batterytex.com - known for our wide selection of the top batteries at some of the lowest prices online. search our huge database of replacement batteries, chargers and accessories and save on both price and shipping. learn more about this item and get bulk pricing - call us now @ 1-888-825-6661. here motorcycle and powersport batteries batteries at great prices. man1 provides other high-quality batteries at terrific prices - click here for more information. our batteries are more reliable, efficient and powerful with greater longevity and much lower pricing than ever before. if you want information on the manufacturer warranty please reach out to us with the specific battery you're interested in. standard warranties are for one-year however.