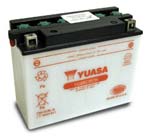 YAMAHA XV920M MIDNIGHT VIRAGO (Y50-N18L-A (dry)) Battery Replacement
Price: $90.95


Brand:
YAMAHA
Product:
Y50-N18L-A (dry)
Battery Model:
XV920M MIDNIGHT VIRAGO
YAMAHA XV920M MIDNIGHT VIRAGO (920cc, 83) MOTORCYCLE BATTERY
MOTM2218Y, dry

when it comes to power and energy the xv920m midnight virago yamaha replacement is the king of motorcycle and powersport batteries. it's made from quality materials so the xv920m midnight virago is one of the toughest on the market. as well it has been designed and built to meet or outshine the original specs by yamaha. search our huge database of replacement batteries, chargers and accessories and save on both price and shipping. batterytex.com - your one-stop shop for replacement batteries, chargers and more. contact us now at 1-888-825-6661 for assistance and information on xv920m midnight virago. check out our wide selection of motorcycle and powersport batteries batteries here. need other yamaha products? try these! using updated materials, manufacturing techniques and modern technology today's batteries provide greater benefits from increased life-spans to decreased costs. contact us for more info on our warranties. a normal battery warranty from the manufacturer is for one year.