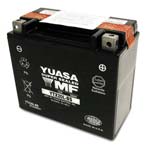 POLARIS VICTORY V92C, DC CLASSIC, DELUXE CRUISER (YTX20L-BS) Battery Replacement
Price: $129.95


Replacement for:
POLARIS VICTORY
Product:
YTX20L-BS
Battery Model:
V92C, DC CLASSIC, DELUXE CRUISER
Battery Specifications and Description
Replacement for: POLARIS VICTORY Battery/Item: YTX20L-BS
Model/Product: V92C, DC CLASSIC, DELUXE CRUISER Volts: 12
mAh or Ah: 18 Composition: NULL
Dimension: Connector: NULL

POLARIS VICTORY V92C, DC CLASSIC, DELUXE CRUISER (1507cc, 98-04) MOTORCYCLE BATTERY
MOSM620BH, with acid
NULL
looking for powerful motorcycle and powersport batteries? then look no further than the polaris victory v92c, dc classic, deluxe cruiser replacement battery. only the best materials are used in the v92c, dc classic, deluxe cruiser. also it has been developed to meet or out-perform polaris victory's original specifications. whether its selection, quality or our great discount prices you'll find that batterytex is the ultimate battery source. with thousands of batteries to choose from and extremely low prices you'll see why batterytex is your one-stop-shop for replacement batteries. learn more about this item and get bulk pricing - call us now @ 1-888-825-6661. search for other motorcycle and powersport batteries batteries at low prices by clicking here. click here to view our entire stock of items for polaris victory products. we carry only batteries that are well-manufactured, long-lasting, and made from quality parts. if you want information on the manufacturer warranty please reach out to us with the specific battery you're interested in. standard warranties are for one-year however.