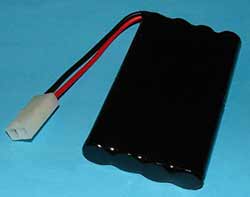 EZTEC 9.6V RECHARGEABLE BATTERY PACK (8AAS-M) Battery Replacement
Price: $16.58


Replacement for:
EZTEC
Product:
8AAS-M
Battery Model:
9.6V RECHARGEABLE BATTERY PACK
This is the Eztec 9.6v battery replacement for your heavy duty Eztec RC cars. It operates at 800mAh and is a NICAD battery, putting out the 9.6 volts for your higher-powered remote control cars.
AKA: Eztec 9.6
Eztec, a well-known industry leading battery manufacturer, presents the 9.6v rechargeable battery pack battery replacement. made from only the best in electrical materials the 9.6v rechargeable battery pack, like eztec's many other replacement batteries, is quality and affordability. as well, eztec's original specifications for this product have been equaled or exceeded in performance. save time, money and hassle and get your batteries at unbeatable prices at batterytex.com. thanks for choosing batterytex for your battery needs. our battery experts are here to give you answers to any questions you may have or to provide you with information on bulk discounts: 1-888-825-6661. here rc radio control batteries batteries at great prices. see more great products by manufacturer: eztec our batteries are more reliable, efficient and powerful with greater longevity and much lower pricing than ever before. manufacturers supply the necessary warranties on batteries that we carry. typical warranties are for 1 year while others change depending on the battery type and the maker.