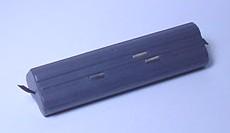 DIGIMAC 486SCL (LAP-203) Battery Replacement
Please
email
us for pricing.
Replacement for:
DIGIMAC
Product:
LAP-203
Battery Model:
486SCL
Battery Specifications and Description
Replacement for: DIGIMAC Battery/Item: LAP-203
Model/Product: 486SCL Volts: 7.2
mAh or Ah: 4000 Composition: NIMH
Dimension: Connector:




Laptop - Desktop Batteries are not all the same so when you choose the 486SCL (replacement for DIGIMAC) you choose durability and strength. The 486SCL is constructed with performance and quality in mind. Plus it was designed to equal or improve upon the original specs by DIGIMAC. Thanks for choosing BatteryTex for your battery needs. BatteryTex - your source for amazing prices on the best batteries on the market. If you require further info or would like to save with bulk pricing discounts - call one of our team members now - 1-888-825-6661. If you want to find more Laptop - Desktop Batteries batteries for your gear? click here! More in-stock items for DIGIMAC products. With increases in technology and materials, batteries have increased in performance, energy and cost. Each warranty can vary however normal manufacturer warranties are one year. Let us know if you have questions on any specific item's warranty.