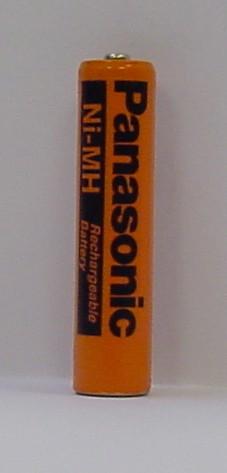 PANASONIC HHR75AAA/B (AAA-750NM PANA) Battery Replacement
Price: $3.10


Replacement for:
PANASONIC
Product:
AAA-750NM PANA
Battery Model:
HHR75AAA/B
PANASONIC HHR75AAA/B

Battery Price: $3.48

Shipping Price: $2.74 USPS Basic*

Total Price including US shipping: $5.84**

Battery Description:
The Panasonic HHR75AAA/B high quality standard AAA NiMH (Nickel Metal Hydride) battery is the perfect replacement for your alkaline AAA batteries.
This 1.2V (Volt), 750mA (milliampere), button top rechargeable can withstand temperatures up to 55°C (131°F) and will charge in 2 hours.

The HHR75AAA/B is equivalent to Energizer, Duracell, and Sanyo rechargeable AAA batteries and can be placed in devices such as wireless mice and keyboards, Television remote controls, or anything that will accept a NiMH (Nickel Metal Hydride), 1.2V (Volt), rechargeable AAA battery.
Buy the Panasonic HHR75AAA/B high quality standard AAA NiMH battery for less at BatteryTex!
HR75AAAB Data Sheet (PDF - 19KB)
Related Batteries:
* This battery qualifies for flat-rate shipping of $2.74
This shipping rate is not valid if you add other items to your cart. Shipping options will be available in the Shopping Cart or please see our
Shipping Page for more information.

** This is an estimated price that does not include any other potential charges such as sales tax where applicable. Please see the final price in your shopping cart for the actual total price.
AKA: hhr75aaa b / hhr75aaab / hhr75aaa-b
PANASONIC, a well-known industry leading battery manufacturer, presents the HHR75AAA/B battery replacement. It's made from quality materials so the HHR75AAA/B is one of the toughest on the market. This is why the HHR75AAA/B meets or exceeds the specifications required by your equipment manufacturer. BatteryTex - your source for amazing prices on the best batteries on the market. Whether its selection, quality or our great discount prices you'll find that BatteryTex is the ultimate battery source. Learn more about this item and get bulk pricing - call us now @ 1-888-825-6661. Browse or search our great inventory of Single Cell Batteries batteries
here
. We stock a great selection of items for PANASONIC products. Click to see. With increases in technology and materials, batteries have increased in performance, energy and cost. Warranties for batteries and other products on this site are dependent upon the product and the manufacturer. Please contact us with the specific model for warranty information.