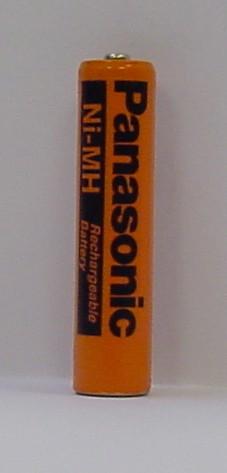 PANASONIC HHR-75AAAB5B (AAA-750NM PANA) Battery Replacement
Price: $3.10


Replacement for:
PANASONIC
Product:
AAA-750NM PANA
Battery Model:
HHR-75AAAB5B
Panasonic HHR-75AAAB5B Battery Replacement
The HHR-75AAAB5B battery is a NiMH (Nickel Metal Hydride) rechargable battery for use in your Panasonic telephone and other devices.
The HHR-75AAAB5B is rated at 1.2v / 730mAh and was built to meet or exceed the original battery's specs.
Product documentation for the HHR-75AAAB5B can be found here: HHR75AAAB5B battery specs
PANASONIC, a well-known industry leading battery manufacturer, presents the HHR-75AAAB5B battery replacement. From their high-quality construction - the HHR-75AAAB5B replacement battery shows PANASONIC as a brand you can trust. It's also built to meet or exceed the original PANASONIC specs. Whether its selection, quality or our great discount prices you'll find that BatteryTex is the ultimate battery source. Our huge inventory and extra low pricing make us the choice for batteries - BatteryTex.com. Call us now at 1-888-825-6661 for more detailed information on this product and for special deals and discounts. Other Single Cell Batteries batteries may be available that meet your requirements - click
here
to browse. If you want to save more on great batteries from PANASONIC - see our selection here. With better materials and manufacturing processes batteries have become smaller, more efficient and more affordable. Each warranty can vary however normal manufacturer warranties are one year. Let us know if you have questions on any specific item's warranty.