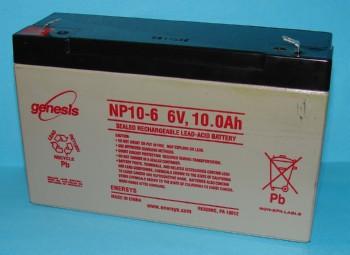 SILTRON EM63 (LEAD-6-10) Battery Replacement
Price: $24.04


Replacement for:
SILTRON
Product:
LEAD-6-10
Battery Model:
EM63
Battery Specifications and Description
Replacement for: SILTRON Battery/Item: LEAD-6-10
Model/Product: EM63 Volts: 6
mAh or Ah: 10 Composition: LEAD ACID
Dimension: 5.95" X 1.97" X 3.84" Connector: .187 TABS




All Emergency Lighting Batteries are not created equal. The SILTRON EM63 replacement battery is the right choice for those seeking performance and efficiency. The EM63 is built tough using only the highest-quality materials. Also the original specifications set forth by SILTRON have been met or surpassed. When you need quality batteries at bargain prices then look no further than BatteryTex.com. Only the best batteries at the best prices: BatteryTex.com. Give us a call now at 1-888-825-6661 for more information and great deals on this item. BatteryTex carries more of these great Emergency Lighting Batteries batteries. View them here now! Man1 provides other high-quality batteries at terrific prices - click here for more information. Batteries today aren't like they used be. From power to reliability and durability, today's batteries are far better than ever before. One-year warranty on most batteries - from the manufacturer. For specifics or to inquire about a specific product please contact us.