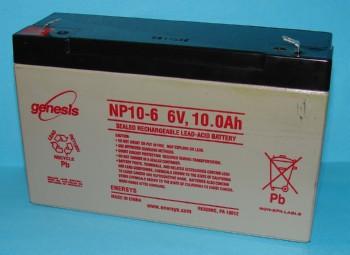 ELS 2SQF (LEAD-6-10) Battery Replacement
Price: $24.04


Replacement for:
ELS
Product:
LEAD-6-10
Battery Model:
2SQF
Battery Specifications and Description
Replacement for: ELS Battery/Item: LEAD-6-10
Model/Product: 2SQF Volts: 6
mAh or Ah: 10 Composition: LEAD ACID
Dimension: 5.95" X 1.97" X 3.84" Connector: .187 TABS




Looking for powerful Emergency Lighting Batteries? Then look no further than the ELS 2SQF replacement battery. It's made from quality materials so the 2SQF is one of the toughest on the market. Equaling or exceeding the original manufacturer's specifications for your equipment at an affordable price is a hallmark of ELS. BatteryTex.com - known for our wide selection of the top batteries at some of the lowest prices online. BatteryTex.com, an industry leader in replacement batteries - featuring some of the lowest online rates available. Give us a call now at 1-888-825-6661 for more information and great deals on this item. If you need another Emergency Lighting Batteries battery click here to view our selection. For more quality, long-lasting products for ELS, click here. Our batteries are more reliable, efficient and powerful with greater longevity and much lower pricing than ever before. Manufacturers supply the necessary warranties on batteries that we carry. Typical warranties are for 1 year while others change depending on the battery type and the maker.