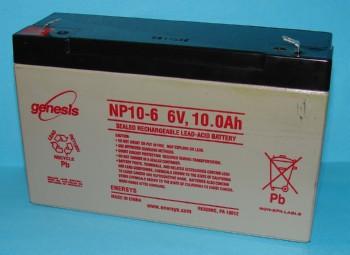 CARPENTER APX (LEAD-6-10) Battery Replacement
Price: $24.04


Replacement for:
CARPENTER
Product:
LEAD-6-10
Battery Model:
APX
Battery Specifications and Description
Replacement for: CARPENTER Battery/Item: LEAD-6-10
Model/Product: APX Volts: 6
mAh or Ah: 10 Composition: LEAD ACID
Dimension: 5.95" X 1.97" X 3.84" Connector: .187 TABS




You say Emergency Lighting Batteries we say the CARPENTER APX replacement battery - synonymous with power and efficiency. Made from only the best in electrical materials the APX, like CARPENTER's many other replacement batteries, is quality and affordability. Also the original specifications set forth by CARPENTER have been met or surpassed. With thousands of batteries to choose from and extremely low prices you'll see why BatteryTex is your one-stop-shop for replacement batteries. BatteryTex - your source for amazing prices on the best batteries on the market. Our battery experts are here to give you answers to any questions you may have or to provide you with information on bulk discounts: 1-888-825-6661. Looking for more Emergency Lighting Batteries batteries? Click here. We stock a great selection of items for CARPENTER products. Click here to see. Better materials, modern manufacturing techniques and greater overall efficiency mean better batteries at lower costs. Manufacturers supply the necessary warranties on batteries that we carry. Typical warranties are for 1 year while others change depending on the battery type and the maker.