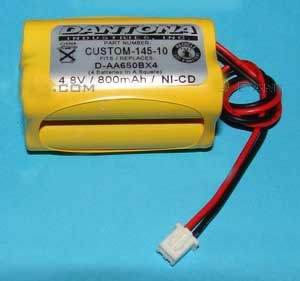 ALL FIT E1021R (COMP-145-10 (STYLE 18)) Battery Replacement
Price: $16.86


Replacement for:
ALL FIT
Product:
COMP-145-10 (STYLE 18)
Battery Model:
E1021R
Battery Specifications and Description
Replacement for: ALL FIT Battery/Item: COMP-145-10 (STYLE 18)
Model/Product: E1021R Volts: 4.8
mAh or Ah: 800 Composition: NICAD
Dimension: 49.0 X 28.3 X 28.3 Connector: CONNECTOR

2.9 OZ.

2 OVER 2 (RECTANGLE) STYLE 18
when it comes to emergency lighting batteries - the e1021r all fit replacement battery provides the power you need when you need it. the e1021r is built tough with strong, durable materials. it's also guaranteed to meet or exceed the original all fit specifications. batterytex - your source for amazing prices on the best batteries on the market. our huge inventory and extra low pricing make us the choice for batteries - batterytex.com. drop us a line with any questions or for bulk discount information at 1-888-825-6661. we look forward to hearing from you! here emergency lighting batteries batteries at great prices. click here to view our entire stock of items for all fit products. you get more than just great pricing with batterytex. take advantage of batteries with long life-spans, modern production and top-quality components. battery warranties can run from one year to more and this depends on the type of battery and the manufacturer. for specifics contact us with the battery in question.