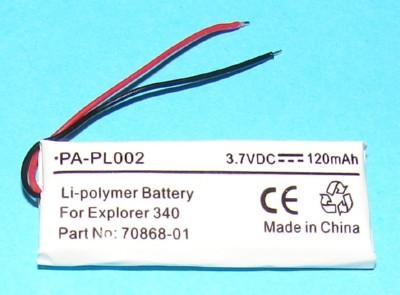 PLANTRONICS 70868-01 (PDA-230LI) Replacement
Price: $11.58


Brand:
PLANTRONICS
Product:
70868-01
Battery Model:
PDA-230LI


** LEAD WIRES ONLY ***********************
When it comes to power and energy the 70868-01 PLANTRONICS replacement is the king of Headset Batteries. The 70868-01 is constructed with performance and quality in mind. As well, PLANTRONICS's original specifications for this product have been equaled or exceeded in performance. BatteryTex - your source for amazing prices on the best batteries on the market. Save time, money and hassle and get your batteries at unbeatable prices at BatteryTex.com. Click here to contact us for more information on this product or call us at 1-800-292-7328 Click here to view our entire stock of items for PLANTRONICS products.

Contact us at any time by email, or by telephone during normal business hours:
8:30-5pm CST Mon-Fri.
3201 West Avenue, San Antonio, Texas 78213

Phone: 1-800-292-7328 / 210-340-4069

Email: info@batterytex.com