Browse Batteries
Browse by Battery Category Browse by Battery Manufacturer Price: $40.24
Item Details
MEDIMEX INC. 1500E Portable Ventilator Medical Battery Replacement for a strong and lasting battery replacement the 1500e portable ventilator by medimex inc. is built to last and be there when you need it. manufactured using state-of-the-art equipment and the best materials, the 1500e portable ventilator is the best choice at the best price. it has also been guaranteed to equal or out-perform medimex inc.'s original specifications. our huge inventory and extra low pricing make us the choice for batteries - batterytex.com. batterytex.com, an industry leader in replacement batteries - featuring some of the lowest online rates available. have questions on this product or want to buy bulk? call our techs now at 1-888-825-6661. looking for other medical batteries batteries? search our stock
here
for more. to see our full inventory of batteries from this manufacturer click
here
. using updated materials, manufacturing techniques and modern technology today's batteries provide greater benefits from increased life-spans to decreased costs. standard battery warranties from the manufacturer are for one year. contact us for more information.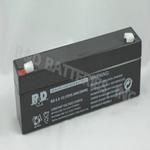 Price: $24.95
Item Details
MEDIMEX INC. PD-1, LS 285 Defibrillator Medical Battery Replacement when it comes to power and energy the pd-1, ls 285 defibrillator medimex inc. replacement is the king of medical batteries. manufactured using state-of-the-art equipment and the best materials, the pd-1, ls 285 defibrillator is the best choice at the best price. due to such quality construction the pd-1, ls 285 defibrillator is built to match or better the original specs laid out by the manufacturer of the original prod1. great replacement batteries, great prices, every day from batterytex.com. search our huge database of replacement batteries, chargers and accessories and save on both price and shipping. drop us a line with any questions or for bulk discount information at 1-888-825-6661. we look forward to hearing from you! if you want to find more medical batteries batteries for your gear? click
here
! click
here
to view our entire stock of items for medimex inc. products. with better materials and manufacturing processes batteries have become smaller, more efficient and more affordable. for warranty information on batteries please contact us directly. the manufacturer warranty is normally one-year however this may vary depending upon the maker.
Contact us at any time by email, or by telephone:
PO Box 352051 | Los Angeles, CA 90035

Phone: 1-888-825-6661

Email: info@batterytex.com