Browse Batteries: hubbell
Browse by Battery Category Browse by Battery Manufacturer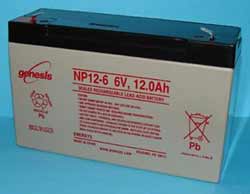 Price: $29.33
Item Details
Hubbell 0120800 Replacement Battery. This is a very high quality replacement for the Hubbell 0120800 and is made by Genesis (their part # is Lead-6-12). It is built to meet or exceed the original specifications for the 0120800 battery.
If you are looking for a less expensive alternative, check out the Universal 0120800 Replacement Battery.
you say lead acid batteries we say the hubbell 0120800 replacement battery - synonymous with power and efficiency. made from only the best in electrical materials the 0120800, like hubbell's many other replacement batteries, is quality and affordability. plus the original specs set forth by hubbell are met or exceeded. search our huge database of replacement batteries, chargers and accessories and save on both price and shipping. batterytex.com - your one-stop shop for replacement batteries, chargers and more. give us a call now at 1-888-825-6661 for more information and great deals on this item. other lead acid batteries batteries may be available that meet your requirements - click
here
to browse. to see our full inventory of batteries from this manufacturer click
here
. with better materials and manufacturing processes batteries have become smaller, more efficient and more affordable. batteries normally come with a one-year warranty from the maker but certain batteries offer different warranties. contact us for specifics.
Contact us at any time by email, or by telephone:
PO Box 352051 | Los Angeles, CA 90035

Phone: 1-888-825-6661

Email: info@batterytex.com