Browse Batteries
Browse by Battery Category Browse by Battery Manufacturer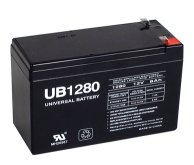 Price: $23.95
Item Details
For those needing the power of the HYS1270, the 1280 is an updated replacement 12 Volt Battery made to
meet or beat the 1270's specifications

and at only $15.63 you get the same reliability, power and performance for less.

Other part numbers for this battery: IM-1270 / IM1270

HYS1270: The HYS1270 Sealed-Lead-Acid Maintenance Free Replacement Battery is perfect for many applications including UPS backup power supplies, solar power storage batteries, medical devices and more. The HYS1270 is a powerful and long-lasting sealed-lead acid replacement battery. Find the HYS1270 for less at BatteryTex!

the hys1270 huanyu replacement battery provides peace of mind making it the right choice among lead acid batteries. it's made from quality materials so the hys1270 is one of the toughest on the market. it's also built to meet or exceed the original huanyu specs. batterytex - your source for amazing prices on the best batteries on the market. batterytex.com - your one-stop shop for replacement batteries, chargers and more. give us a call now at 1-888-825-6661 for more information and great deals on this item. check out our wide selection of lead acid batteries batteries

here

. man1 provides

other

high-quality batteries at terrific prices - click here for more information. you get more than just great pricing with batterytex. take advantage of batteries with long life-spans, modern production and top-quality components. standard battery warranties from the manufacturer are for one year. contact us for more information. UB-1280 Universal replacement model.
Contact us at any time by email, or by telephone:
PO Box 352051 | Los Angeles, CA 90035

Phone: 1-888-825-6661

Email: info@batterytex.com