Browse Batteries: arianne myotron
Browse by Battery Category Browse by Battery Manufacturer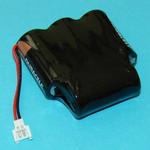 Price: $30.69
Item Details
Arianne Myotron Battery Replacement
Custom designed battery for usage in the Arianne International Myotron Stun Gun (Pulse Wave and Checkmate).  
Long-life and reliable operation make the Custom-183 / Pulse Wave / Checkmate battery the best choice for your Myotron.  Puts out 12v/1200 mAh with a lithium-type battery. 
Total Price for the Myotron Stun Gun battery including Shipping anywhere in the USA:  $39.19*
*Shipped via Priority Mail.  If you add other items to your cart, it may increase your shipping price. Does not include applicable state tax.  Please see the shopping cart for your final price
when it comes to power and energy the pulse wave - checkmate stun gun arianne myotron replacement is the king of misc batteries. only the best components are used in the manufacture of the pulse wave - checkmate stun gun. this is why the pulse wave - checkmate stun gun meets or exceeds the specifications required by your equipment manufacturer. with thousands of batteries to choose from and extremely low prices you'll see why batterytex is your one-stop-shop for replacement batteries. our huge inventory and extra low pricing make us the choice for batteries - batterytex.com. call us now at 1-888-825-6661 for more detailed information on this product and for special deals and discounts. more great brands of misc batteries batteries available here. search and find other batteries from arianne myotron at batterytex.com with better materials and manufacturing processes batteries have become smaller, more efficient and more affordable. manufacturers supply the necessary warranties on batteries that we carry. typical warranties are for 1 year while others change depending on the battery type and the maker.
Contact us at any time by email, or by telephone:
PO Box 352051 | Los Angeles, CA 90035

Phone: 1-888-825-6661

Email: info@batterytex.com