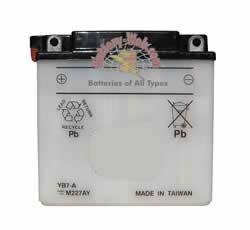 YAMAHA YG5, YG5S (YB7L-B (w/acid)) Battery Replacement
Price: $62.95


Brand:
YAMAHA
Product:
YB7L-B (w/acid)
Battery Model:
YG5, YG5S
YAMAHA YG5, YG5S (80cc, 88-90) SNOWMOBILE BATTERY
MOSM3273B, with acid

for a strong and lasting battery replacement the yg5, yg5s by yamaha is built to last and be there when you need it. you can't beat the yg5, yg5s for it's high-quality construction; built with the best in materials. it has also been guaranteed to equal or out-perform yamaha's original specifications. batterytex.com, an industry leader in replacement batteries - featuring some of the lowest online rates available. with thousands of batteries to choose from and extremely low prices you'll see why batterytex is your one-stop-shop for replacement batteries. contact us now at 1-888-825-6661 for assistance and information on yg5, yg5s. we have a wide selection of motorcycle and powersport batteries batteries available. see them here! view our great selection of items for products by yamaha. using updated materials, manufacturing techniques and modern technology today's batteries provide greater benefits from increased life-spans to decreased costs. most all of our batteries have a one year warranty unless otherwise specified. please feel free to contact us for actual battery warranty information.