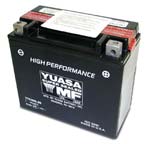 YAMAHA YFM450FW KODIAK/AUTOMATIC (YTX20HL-BS) Battery Replacement
Price: $138.95


Brand:
YAMAHA
Product:
YTX20HL-BS
Battery Model:
YFM450FW KODIAK/AUTOMATIC
YAMAHA YFM450FW KODIAK/AUTOMATIC (450cc, 03) ATV BATTERY

MOSM620BH, with acid.
AKA: yfm450fw-kodiak_automatic
NULL
as far as replacement batteries go the yfm450fw kodiak/automatic by yamaha is designed from the ground up to be powerful and reliable, there for you when you need it. made from only the best in electrical materials the yfm450fw kodiak/automatic, like yamaha's many other replacement batteries, is quality and affordability. from this we have a replacement battery that equals or out-performs the original requirements set forth for your equipment. thank you for making batterytex your provider of replacement batteries at everyday low prices. with thousands of batteries to choose from and extremely low prices you'll see why batterytex is your one-stop-shop for replacement batteries. need battery specs or want to save more on bulk orders? call our battery specialists now at 1-888-825-6661. if you need another motorcycle and powersport batteries battery click
here
to view our selection. search and find
other
batteries from yamaha at batterytex.com with increases in technology and materials, batteries have increased in performance, energy and cost. if you want information on the manufacturer warranty please reach out to us with the specific battery you're interested in. standard warranties are for one-year however.