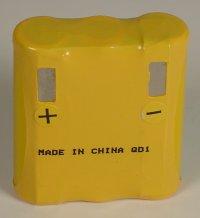 CIDCO 102794-01 (BATT-CL980) Battery Replacement
Price: $6.58


Replacement for:
CIDCO
Product:
BATT-CL980
Battery Model:
102794-01
Battery Specifications and Description
Replacement for: CIDCO Battery/Item: BATT-CL980
Model/Product: 102794-01 Volts: 3.6
mAh or Ah: 600 Composition: NICAD
Dimension: Connector: NULL



NULL
When it comes to power and energy the 102794-01 CIDCO replacement is the king of Cordless Phone Batteries. The 102794-01 is made from the ground-up with first-rate materials. On top of that this battery is developed to match or beat the requirements set forth by the manufacturer. BatteryTex - your source for amazing prices on the best batteries on the market. BatteryTex.com - your one-stop shop for replacement batteries, chargers and more. We also offer bulk discounts and top-flight Customer Service so drop us a line at 1-888-825-6661. If you want to find more Cordless Phone Batteries batteries for your gear? click here! Search and find other batteries from CIDCO at BatteryTex.com From their materials to the technology used in manufacture, modern batteries far out-perform their predecessors. Most all of our batteries have a one year warranty unless otherwise specified. Please feel free to contact us for actual battery warranty information.